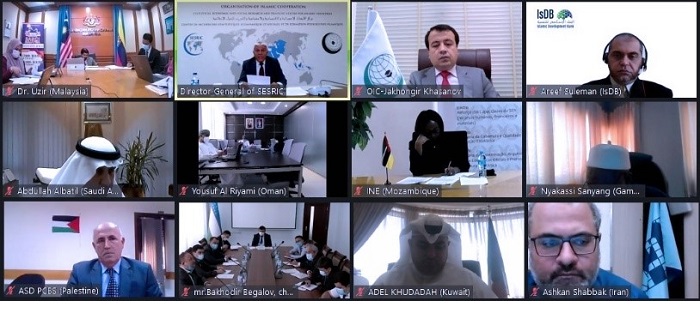 SESRIC, in its capacity as the Secretariat of the OIC Statistical Commission (OIC-StatCom), organised the 9th Session of the OIC-StatCom on 28 September – 1 October 2020 in collaboration with Islamic Development Bank (IsDB) Group through a video-conferencing platform due to the current COVID-19 outbreak. 95 participants from NSOs of 39 OIC countries joined the 9th Session of OIC-StatCom. Representatives of 9 international and regional organizations, namely Organisation of Islamic Cooperation (OIC) General Secretariat, Islamic Development Bank (IsDB) Group, Islamic Organisation for Food Security (IOFS), Food and Agriculture Organization of the United Nations (FAO), Oxford Poverty & Human Development Initiative (OPHI), Partnership in Statistics for Development in the 21st Century (PARIS21), Statistical Centre for the Cooperation Council for the Arab Countries of the Gulf (GCC-Stat), United Nations Economic and Social Commission for Western Asia (UNESCWA), and United Nations Statistics Division (UNSD) also attended and participated in the Session.
The 9th Session of OIC-StatCom commenced with the addresses of Dr. Mohd Uzir Mahidin, Chief Statistician of Department of Statistics Malaysia and Chairman of the 8th Session of OIC-StatCom; HE Mr. Nebil Dabur, Director General of SESRIC; Mr. Jakhongir Khasanov, Representative of the OIC General Secretariat; Mr. Areef Suleman, Representative of the IsDB Group; and Mr. Stefan Schweinfest, Director of UNSD, through a video message in which he expressed his gratitude to SESRIC for the close cooperation with UNSD for over the years and further alluded SESRIC's importance as a partner in fostering the development of NSOs and as an active member of the Committee for the Coordination of Statistical Activities (CCSA).
Following-up the welcoming remarks and opening addresses, the Members of the Bureau for the 9th Session of OIC-StatCom was announced by Dr. Uzir, Chairman of the 8th Session. For the 9th Session, Gambia was elected as the Chair; Morocco, Palestine, and Uzbekistan were elected as the Vice Chairs, and SESRIC as the Rapporteur. The working sessions, then, started with the opening remarks by the Chairman of the 9th Session, Mr. Nyakassi MB Sanyang, Chief Statistician of Gambia Bureau of Statistics.
During the 9th Session, the activities undertaken since the last session were presented by the Secretariat (SESRIC) and the OIC-StatCom Strategic Vision for 2030 together with its Programme of Action for 2021-2025 was adopted after consultation and elaboration by the Members of the Commission.
The following topics were covered through the presentations of the member countries as well as relevant international organisations:
Emerging Approaches for Strengthening Capacities of National Statistical Systems;
Generating SDG Indicators from Population, Housing, and Agriculture Census Data;
Monitoring and Reporting SDG 1 (No Poverty) Indicators; and
Utilisation of Non-Traditional Data Sources in Official Statistics.
At the end of the Session, the OIC-StatCom adopted a number of resolutions concerning its future work under each agenda item.
All the documents, reports, and other related materials of the 9th Session of OIC-StatCom are available at this link.